Final Friday Five
With January almost over already, and the New Year celebrations a distant memory, it is now time to round up our favourite articles, blogs and discussions from January and this month they are all on a theme of house building.
The first story that got our attention this years was the government's plan to directly commission the building of 10,000 new homes on public land as part of a "radical" new plan to build at a faster rate using smaller companies. This is a positive move, as new homes are badly need as this graph shows: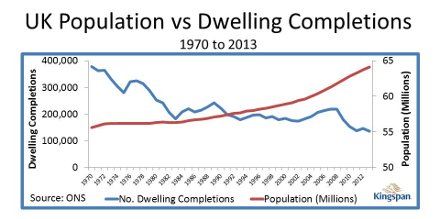 Lots of papers covered this story and you can read more about it here.
This article by RIBAJ takes a look at the sustainability measures and regulations, following the end of the Code for Sustainable Homes and asks if homes owners have other priorities than sustainability in house building, rather than seeing the benefits in the same way that developers do. It also has a good overview of all the different schemes which are being launched to cover the gap that the Code for Sustainable homes left. Read all about them here.
We've talking about Passivhaus projects on the blog before and Elrond Burrell's review of the Passivhaus Designer's Manual gives a good overview of not only the book, but of some of the key considerations in Passivhaus design. Read all about it here.
We are getting ready for Ecobuild and this article shows what we can look forward to on the first day of the exhibition with a program focused on housing. Read all about it here.
And finally, we know that the more efficient we are, the more efficient you can be. This short video explains how.
https://www.youtube.com/watch?v=MjQkH_SJrq8
To keep up to date with all our latest blog posts you can follow the blog by clicking this RSS Feed link or by following us on Twitter @KingspanIns_UK or on Linkedin.
Share this blog post with your friends and colleagues by clicking on the social media icons below.
Print this page